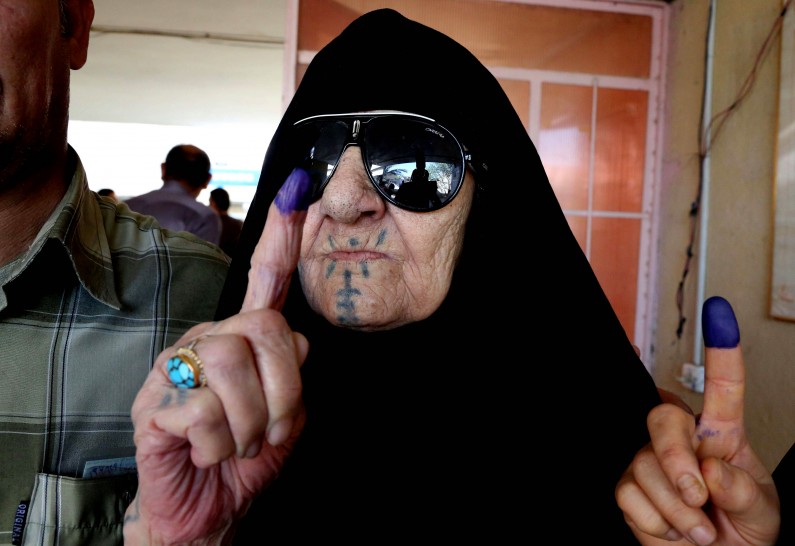 Bombs and ballots took place on the eve of the Iraq elections. Here are stories reported by Antiwar and the Associated Press on the day's events.
67 Killed, 115 Wounded on Eve of Iraq Elections
By: Margaret Griffis
On the eve of parliamentary elections, at least 67 Iraqis were killed and 115 more were wounded. Bombers again struck in Diyala province, not far from where a bomber caused massive casualties at a political rally yesterday.
Although he previously promised not to run for a third term, Prime Minister Nouri al-Maliki is expected to win tomorrow. Much is at stake for him, but perhaps even more is at stake for Iraq. His support base has shrunk, particularly with Kurds in the north and certainly with Sunnis in the west and elsewhere. A third term could sink Iraq deeper into crisis.
In Anbar:
Two soldiers were killed and four policemen were wounded when a suicide bomber drove into a polling station in Haditha.
Shelling killed two people and wounded five more in Falluja.
A bomb in Abu Ghraib killed two people and wounded eight more. Six militants were killed during an operation.
In Houz, two people were killed and a third one was wounded when a shell fell on their home.
Two policemen were killed and three more were wounded when a suicide bomber attacked a police station in Rutba.
Gunmen shot at an ambulance in Khalidiya, injuring the driver and the patient.
Elsewhere:
A double bombing at a market in Saidiya killed 18 people, including women and children, and wounded 42 more. The first bomb chased the crowds to an exit, where a second bomb was planted.
In Baghdad, a bomb killed two policemen and wounded four more in Radwaniya. One person was killed and 11 more were wounded when mortars struck Ghazaliya. A suicide bomber in Doura killed two policemen and wounded nine more.
Two people were killed and eight more were wounded during a mortar strike in Sabaa al-Bour.
Gunmen killed five Sahwa members and wounded eight more in Madaen.
Three people were killed and seven more were wounded in Baquba, when a bomb exploded near a shop.
A bomb in Ishaqi killed a shepherd and wounded another who was his brother.
In Shirqat, eight gunmen were killed and two soldiers were wounded during a failed attempt to take over an army headquarters.
At least seven gunmen were killed during an extensive aerial assault in Jurf al-Sakhar.
This coverage originally appeared in Antiwar.
Iraqi's Brave Threat Of Violence To Cast Ballots
By: The Associated Press
BAGHDAD (AP) — Iraqis braved the threat of bombs and attacks to vote Wednesday in key elections for a new parliament amid a massive security operation as the country slides deeper into sectarian strife.
Hundreds of thousands of troops and police fanned out to protect the first nationwide balloting since the 2011 American pullout. Scattered attacks still took place north of Baghdad, killing at least five people, including two women, and wounding 16.
Baghdad looked like a deserted city, with police and soldiers manning checkpoints roughly 500 meters (yards) apart and pickup trucks mounted with machine-guns roaming streets that were otherwise devoid of the usual traffic jams.
Stores were closed, and many voters had to walk for kilometers (miles) to the polls after authorities banned civilian vehicles to prevent car bombs. Others demanded a lift from army or police checkpoints.
Prime Minister Nouri al-Maliki, who has held power for eight years, faces growing criticism over government corruption and persistent bloodshed as sectarian tensions threaten to push Iraq back toward the brink of civil war.
The 63-year-old Shiite leader's State of Law party was widely expected to win the most seats in the 328-member parliament but to fall short of a majority, according to analyst predictions. That would allow al-Maliki to keep his post only if he can cobble together a coalition — a task that took nine months after the last election in 2010.
«God willing, we will celebrate a successful election and defeat terrorism,» al-Maliki told reporters after casting his ballot in Baghdad. He was upbeat about how his party will fare.
«Our victory is certain but we are talking about how big is that certain success,» he said.
Even some of al-Maliki's Shiite backers accuse him of trying to amass power for himself, but most in the majority sect see no alternative. Al-Maliki also has the support of neighboring powerhouse Iran, which aides have said will use its weight to push discontented Shiite factions into backing him for another term.
Polls opened across the energy-rich nation at 7 a.m. (0400 GMT, midnight Tuesday EDT) and were to close at 6 p.m. There were 22 million eligible voters, choosing from more than 9,000 candidates. Turnout stood at 30 percent with four hours left to vote, according to Muqdad al-Shuraifi, a senior election commission member.
Election officials did not offer a timetable for releasing results, but they were expected to start trickling out in coming days. Results weren't announced until about two weeks after the 2010 balloting.
Voters were searched multiple times before being allowed inside polling centers and surrounding streets were blocked by police trucks and barbed wire.
«I decided to go and vote early while it's safe. Crowds attract attacks,» Azhar Mohammed said as she and her husband approached a polling station in Baghdad's mainly Shiite Karradah district. The 37-year-old woman said her brother — a soldier — was killed last week in the northern city of Mosul.
«There has been a big failure in the way the country has been run and I think it is time to elect new people,» she said, shrouded in black.
Not far away, 72-year-old Essam Shukr broke into tears as he remembered a son killed in a suicide bombing in Karradah last month. «I hope this election takes us to the shores of safety,» he said. «We want a better life for our sons and grandchildren who cannot even go to playgrounds or amusement parks because of the bad security situation.»
In Baghdad's mostly Shiite Sadr City district, for years a frequent target of bombings blamed on Sunni insurgents, elite counterterrorism forces were deployed and helicopters hovered above the sprawling area. Double-decker buses ferried voters to polling centers.
«We want to see real change in this country and real security. We are not happy with the performance of the current government and parliament,» said 18-year-old Zulfikar Majid, a first-time voter in Baghdad's mainly Shiite Habibiya neighborhood.
Authorities also closed Iraq's airspace for the elections. Soldiers and police cast ballots on Monday to enable them to provide security on voting day. Iraqis living in about 20 other countries voted on Sunday and Monday.
Hamid al-Hemiri and his wife Haifaa Ahmed walked five kilometers (three miles) to reach their polling center on the west bank of the Tigris River.
«We were determined to take part in the election to save our country and so that future generations don't curse us,» he said. His wife added: «I am voting to stop the bloodshed in my country. Enough sorrow and pain.»
Al-Maliki rose from relative obscurity to office in 2006, when Iraq's sectarian bloodletting began to spiral out of control, with Sunni militants and Shiite militias butchering each other.
The violence ebbed by 2008 after Sunni tribes backed by the Americans rose up to fight al-Qaida-linked militants and Shiite militias declared a cease-fire.
But attacks have surged again in recent years, stoked in part by al-Maliki's moves last year to crush protests by Sunnis complaining of discrimination under his government. Militants took over the city of Fallujah in the Sunni-dominated province of Anbar and parts of the provincial capital of Ramadi.
Iraqi army and police forces battling them for months have been unable to take most areas back and voting was not taking place in parts of the vast province bordering Jordan and Syria.
The insurgents also have been emboldened by the civil war in neighboring Syria, where mostly Sunni rebels are fighting to oust the regime of President Bashar Assad, a follower of a Shiite offshoot sect. The rebels are dominated by Islamists and members of al-Qaida-linked or inspired groups, including the Islamic State of Iraq and the Levant, or ISIL. Shiite militiamen from Iraq fight on the side of Assad's forces.
At the same time, many Iraqis increasingly complain of government corruption and the failure to rebuild the economy after years of war following the 2003 U.S.-led invasion that ousted Saddam Hussein.
Last year, the death toll in Iraq climbed to its highest levels since the worst of the sectarian bloodshed in 2006 and 2007. The U.N. says 8,868 people were killed in 2013, and about 2,000 people were killed in the first three months of this year alone.
High-profile attacks have killed dozens in the days leading up to the vote.
A roadside bomb killed two women as they walked to a polling station on Wednesday, while another bomb targeted an army patrol, wounding five soldiers in the northern town of Dibis, according to Sarhad Qadir, a senior police officer in the area.
Another bomb in Diblis struck a car carrying election commission employees, killing two, said senior police officer Turhan Abdullah Youssef.
Elsewhere in the north, a police officer jumped on a suicide bomber to protect people from the impact of the blast, which occurred near a polling center in Beiji. The police officer was killed and 11 people were wounded, police officials said, speaking on condition of anonymity because they were not authorized to release the information.
Police also shot and killed a would-be suicide bomber before he could blow himself up near a polling center in the northern city of Mosul.
In Anbar, several mortar shells landed near polling centers, wounding two people, in Amiriyat Fallujah, where thousands of people have taken refuge after fleeing fighting in nearby Fallujah.